Moving with your cat
A stack of cardboard
Your move is on the horizon, and a few boxes are already piling up here and there? Your cat is probably already looking at them, wondering what those big boxes are going to be used for. For cats, who are very attached to their territory, a move is always complicated. Let's see how well prepared your pet's move is, and how a few drops of CBD oil can reduce your cat's stress.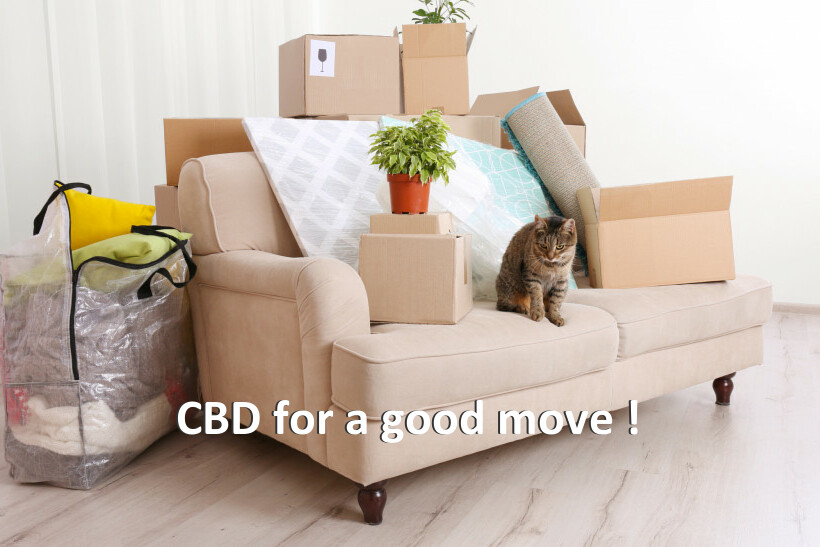 ---
Changing territory is quite a story
Every move is an adventure and an upheaval for us and our cats. First of all, there are the preparations, all those little things that no longer have a reason to be here, and disappear at the bottom of the boxes. Photo frames, little trinkets, a lamp, a cushion, everything the cat knew from his landscape disappears little by little. For a territorial animal like the cat, this is not nothing, a little stress settles in slowly but surely. And nothing should get better once settled in your new home, on the contrary, the cat's anxiety will grow in front of this new unknown territory, these new noises, these new smells, and this new layout of your furniture. Everything is changed, nothing is the same as before. And your cat may have his own way of making you understand it (in spite of himself, by the way), scratching, urinary marking, uncleanliness, refusal to eat, weight loss, irritability, etc.
Preparing for the move
Before the big departure
1) Using the floor plan of the new home, see how to arrange the spaces reserved for the cat, such as the litter box, cat tree, bowls, etc.
2) Make sure to pack your cat's favorite furniture and belongings last, this will reduce stress.
During the move
1) If you can, isolate your cat in a room that has already been emptied, and offer him his bowl, his litter box, and his favorite toys so that he can escape all the comings and goings while you empty the other rooms.
2) Once the apartment is empty, place your pet in its transport cage, proceed as you are used to when you travel with it.
In your new home
1) When you arrive in your new home, if you haven't been able to install everything beforehand. Process in the same way. Place the cat in a small room, empty or not, with its belongings in order to reduce its stress.
2) During the first few days, it may be interesting to limit your pet's mops to one or two rooms so as not to increase its anxiety. Then, when your pet is well established, open all the rooms to him.
3) If you have a garden or a terrace, wait a little while until your cat has taken possession of his new home before letting him out. He could make a bad encounter (dogs or cats), run away and get lost. So accompany him when the time comes, and let him discover your outdoors.
If everything does not go as planned
A few days or weeks have passed, and despite all your efforts your cat is having trouble adapting to his new space? Redouble your efforts, be present for your cat, continue to play with him and cuddle him. You can also offer him a few drops of CBD oil every day in his kibble to soothe him and reduce his stress and anxiety.
CBD and stress in cats
The CBD of its real name cannabidiol, is a molecule obtained from industrial hemp (Cannabis Sativa). It is little known, but cannabis is a family of plants with very different virtues:
Cannabis Sativa (industrial hemp) rich in CBD, very very low in THC (less than 0.2% according to the law, then 0% in the finished product).
Cannabis Indica, poor in CBD, and very rich in THC
Cannabis Ruderalis, low in CBD and THC
THC is a psychotropic molecule, which is banned in most countries. CBD, is not psychotropic and its marketing and consumption is therefore perfectly legal. So there is no THC in CBD oil, your cat will not get high. But his stress will decrease, indeed several studies have shown the anxiolytic effects of cannabidiol :
Two studies from 2012 (CAMPOS et al, ELBATSH et al.) have shown that CBD has calming effects on anxiety in both animals and humans.
In 2013, a study on 48 subjects suffering from anxiety disorders highlighted the anxiolytic effects of CBD, even at low doses.